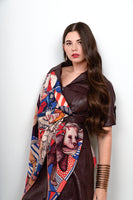 ACCESSORIES WITH ARTISTIC VALUE
Every SOYKA scarf is a piece of art. All of the prints for our collections are created by hand first on either paper, canvas or textile, and only then are transferred to a digital format, ready to be printed on one of our luxurious fabrics. We collaborate with illustrators all over the world with each print created exclusively for us.
Black Friday SALE: 20%-50% OFF ON EVERYTHING
The quality is invariably stable, the brand monitors it with special care.

L'OFFICIEL BALTIC MAGAZINE
SOYKA's philosophy is items, gifts with artistic value. The designer tries to get away from useless souvenirs as a gift and come up with really fashionable things.

3ADE.LV MAGAZINE
They are not chasing short-term fashion, but definitely aiming for originality and quality in the products created.

RIGA FASHION WEEK
WHY SOYKA?
SOYKA comes from the name of the jay bird «сойка» in Russian and from the verb "to shine". This bird's name was created thanks to its bright plumage.
There is a belief, that meeting a jay on your way will bring you luck and if you follow this vociferous songstress - she will show you the way to the happiness!
We'd like you to feel the same message in our scarves.